The following items will be on special in store on 05/01/2015 ONLY: (Normal prices will apply after 05/01/2013.)
| | | |
| --- | --- | --- |
| Description: | Regular Price: | Special Price: |
| ACM TA31 Style 4 x Magnification Scope w/ Dummy Fibre Optic | R 700.00 | R 650.00 |
| ACM TA32 Style Red Dot Scope w/ Dummy Fibre Optic | R 900.00 | R 800.00 |
| G&P 110rd M16 VN Metal Mid Cap Magazines | R 150.00 | R 135.00 |
| G&P Raider Foregrip Tan | R 300.00 | R 270.00 |
| Shooter Magazine for Ares M3A1 | R 320.00 | R 280.00 |
| G&P Elcan Style Scope | R 850.00 | R 750.00 |
| UFC 4x26 Illuminated SVD Scope | R 1 400.00 | R 1 250.00 |
| AGM MP44 AEG w/ Real Wood | R 2 650.00 | R 2 400.00 |
| Ares M3A1 Grease Gun AEG | R 3 200.00 | R 2 850.00 |
| ACM M1892 Winchester Maxi Gas Rifle | R 2 700.00 | R 2 550.00 |
| ICS Galil ARM ICS-91 AEG | R 4 850.00 | R 4 600.00 |
| ICS Galil AR ICS-92 AEG | R 4 600.00 | R 4 350.00 |
| G&P M16A4 AEG | R 5 000.00 | R 4 500.00 |
| JG G36C AEG | R 1 950.00 | R 1 750.00 |
| KA FN FAL AEG | R 4 200.00 | R 3 800.00 |
| WE 1911A1 Full Metal GBB Pistol | R 1 450.00 | R 1 300.00 |
| WE AceVD Aluminium/Wood GBB Rifle | R 6 500.00 | R 6 000.00 |
| Snow Wolf M82 Barrett AEG | R 5 400.00 | R 5 100.00 |
* Specials valid in store on 05/01/2013 only.
* Specials only valid while stocks last.


Due to popular demand, we have decided to extend the special on logo and themed T-Shirts and Tru-Spec Shorts until Saturday 05/01/2013. Hurry! Stock is running out fast.

Logo and themed T-Shirts at R100.00 each! (Normal price as much as R250.00.)
Tru-Spec Shorts at R250.00 each! (Normal price as much as R450.00.)

If it's on the special rack, that's the price!

Click here for more info on this special.

The Open Day on 05/01/2013 will include the following:

- Airsoft shooting competition where the 3 shooters with the best times will win prizes.
- New Year In Store Specials valid In Store on 5 January 2013 only.
- Victory Milsim Events militaria display.

Boerewors rolls will be on sale and snacks and refreshments will be available via the vending machine.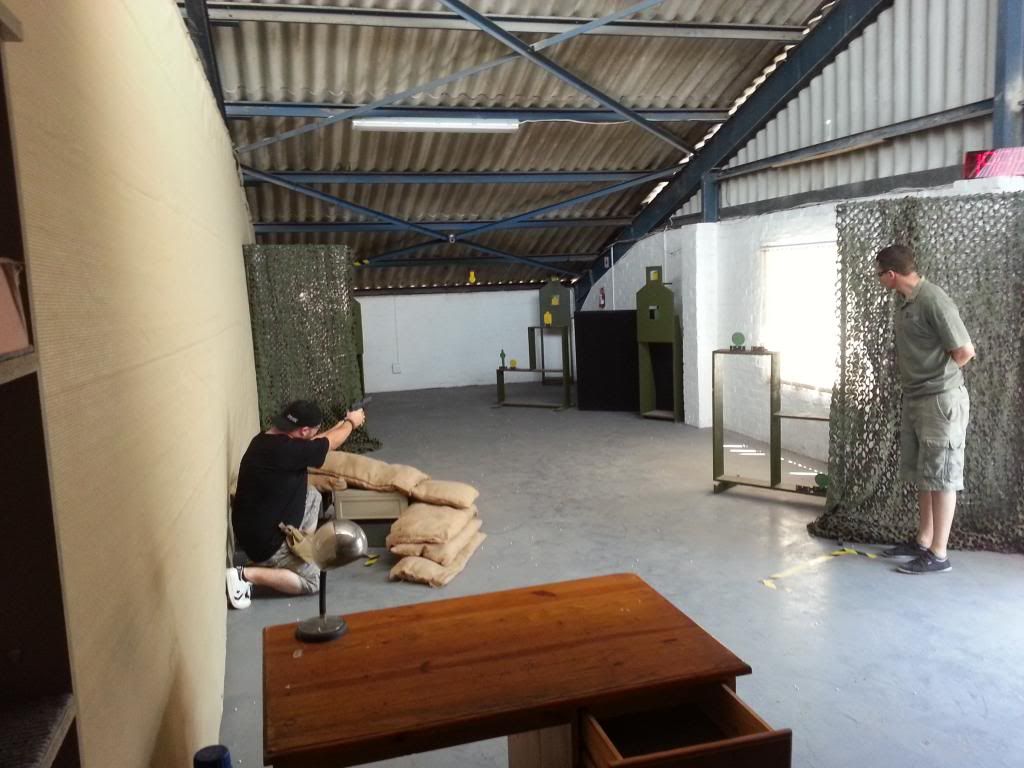 Everyone is welcome to enter the airsoft shooting competition. Entry is free of charge.
The shoot will comprise of 2 stages:
Stage 1: A GBB handgun stage.
Stage 2: An AEG G36C rifle kill house stage.
GICS will provide the airsoft pistols, rifles, gas and BB's. (You are welcome to bring your own airsoft GBB pistols along if you like.)

First Prize: Tokyo Marui M3 Super 90 Spring Shotgun
Second Prize: R250.00 GICS Gift Voucher and a GICS Velcro Patch
Third Prize: R100.00 GICS Gift Voucher and a GICS Velcro Patch

So come along, compete against your friends and set up as many times as you like.

Opening Times: 09:00 - 14:00
Shooting Competition: 10:00 - 13:00
The handgun stage will be shot from 10:00 - 11:30.
The rifle stage will be shot from 11:30 - 13:00.
You need to set up a time in both stages in order to compete for the prizes.
If you set more than 1 time per stage, your best 2 times will be added together and averaged and added to your score from the other stage to calculate your overall time.